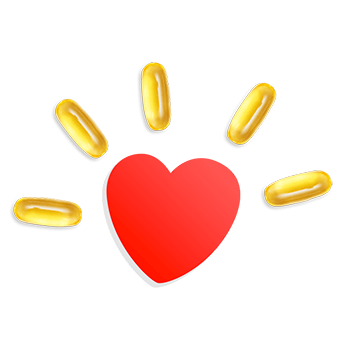 Benefits:
Omega-3 Heart Health
OmegaBrite© can positively impact Hearth Health in cases of Heart Attacks and Heart Disease among others.
Omega-3 Heart Health
The American Heart Association recognizes the importance of the omega-3's essential nutrients EPA and DHA in promoting cardiac health, lowering blood triglycerides and in protecting against cardiovascular disease. The high EPA Omega-3 in OmegaBrite provides important anti-inflammatory protection for heart and overall health. The American Heart Association recommends two fish meals a week and says that a 0.5-1.8 grams of Omega-3 per day can be beneficial. Those with heart disease may need more than 1 gram per day and may find it beneficial to increase their dosage to 2-4 grams OmegaBrite per day with medical supervision.
The American Heart Association has also issued new recommendations for women with hypercholesterolemia or hypertriglyceridemia. The AHA says that women with those conditions may benefit from 1800 mg of EPA per day. This recommendation is supported from research in the JELIS study that shows that even in those individuals eating a high fish diet, on statins, taking 1800 mg EPA Omega-3 supplement further improves cardiac health. For those individuals who are on a statin therapy, a study published in the American Journal of Cardiology in August 2006 recommends that all individuals on a statin also benefit from taking an Omega-3.
Our Products
Receive a 10% discount when you choose an item with the word
"AutoRefill" to sign up for a monthly automatic shipment and charge!*
*Terms and Conditions apply.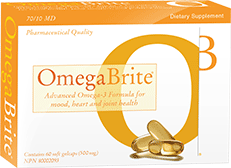 OmegaBrite Gelcaps
Price: $35.99
OmegaBrite 100% Natural Advanced Omega-3 Formula
Scientifically formulated fish oil capsules with High Purity EPA for maximum benefit.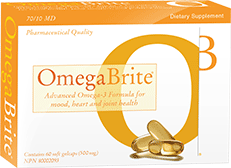 Gelcaps AutoRefill
Price: $32.39 - Save 10%
OmegaBrite 100% Natural Advanced Omega-3 Formula
Save 10% and have your order automatically shipped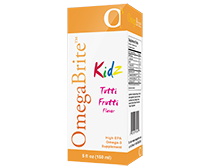 OmegaBrite KIDZ
Price: $44.99 - Great tasting for kids.
OmegaBrite KIDZ - In Orange Cream and Tutti-Frutti Flavors
Great tasting and easy to take small dosage for kids.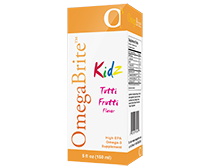 KIDZ Autorefill
Price: $40.49 - Save 10%
Orange Cream and Tutti-Frutti Flavors
Order AutoRefill Now and save 10% on your automatic monthly delivery
Related Testimonials
My good cholesterol has risen from 88 to 112
I love OmegaBrite Omega-3 product. I was suffering from clogged arteries and high cholesterol. My doctor suggested Omega-3s and told me to get the pharmaceutical grade so I did. My good cholesterol has risen from 88 to 112 on my last blood test. I also feel great; the Omega 3s…
Fish Oil Eases Depression, Adding Supplement to Drug Therapy Reduces Symptoms, By Jennifer Warner Reviewed By Michael Smith, MD WebMD Medical News, Oct. 18, 2002
ImmuneSupport.com, 10-23-2002, Authors: Malcolm Peet, MB, ChB, FRCPsych; David F. Horrobin, DPhil, BM, BCh Arch Gen Psychiatry. 2002;59:913-919
Stevens LJ, Zentall SS, Abate ML, Kuczek T, Burgess JR; Omega-3 fatty acids in boys with behavior, learning, and health problems. Physiol Behav, Volume 59 o Issue 4-5.
Peet, M. (2003). "Eicosapentaenoic acid in the treatment of schizophrenia and depression: rationale and preliminary double-blind clinical trial results." Prostaglandins Leukot Essent Fatty Acids 69(6): 477-85.
Omega-3 Fats and Autism, Copyright 2000 Harcourt Publishers Ltd., Vancassel S, Durand G, Barthelemy C, Lejeune B, Martineau J, Guilloteau D, Andres C, Chalon, S. Plasma fatty acid levels in autistic children. Prostaglandins Leukot Essent Fatty Acids. 2001 Jul;65(1):1-7.
EPA-based antidepressant in two years, Copyright – Unless otherwise stated all contents of this web site are © 2000/2002– NutraIngredients– All Rights Reserved.
"Consumption of Fish and n-3 Fatty Acids and Risk of Incident Alzheimer Disease", Authors: Martha Clare Morris, ScD; Denis A. Evans, MD; Julia L. Bienias, ScD; Christine C. Tangney, PhD; David A. Bennett, MD; Robert S. Wilson, PhD; Neelum Aggarwal, MD; Julie Schneider, MD, Source: Arch Neurol. 2003;60:940-946.
Prog Neuropsychopharmacol Biol Psychiatry. 2007 Oct 1;31(7):1493-9., The impact of omega-3 fatty acids, vitamins E and C supplementation on treatment outcome and side effects in schizophrenia patients treated with haloperidol: An open-label pilot study., Sivrioglu EY, Kirli S, Sipahioglu D, Gursoy B, Sarandl E., Uludag University Medical Faculty Department of Psychiatry, 16059 Gorukle, Bursa, Turkey.
Eur Neuropsychopharmacol. 2007 May-Jun;17(6-7):440-7., Omega-3 fatty acid monotherapy for pediatric bipolar disorder: a prospective open-label trial., Wozniak J, Biederman J, Mick E, Waxmonsky J, Hantsoo L, Best C, Cluette-Brown JE, Laposata M., Pediatric Psychopharmacology Research Unit, Massachusetts General Hospital, Boston, MA 02138, USA. jwozniak@partners.org
Research Indicates EPA Successfully Treats Depression
J Clin Psychiatry. 2007 Jul;68(7):1056-61., A meta-analytic review of double-blind, placebo-controlled trials of antidepressant efficacy of omega-3 fatty acids., Lin PY, Su KP., Department of Psychiatry, Chang Gung Memorial Hospital-Kaohsiung Medical Center, Chang Gung University College of Medicine, Kaohsiung, Taiwan.
Psychosom Med. 2007 Dec;69(9):932-4. Epub 2007 Nov 8., High omega-6 and low omega-3 fatty acids are associated with depressive symptoms and neuroticism., Conklin SM, Manuck SB, Yao JK, Flory JD, Hibbeln JR, Muldoon MF., Department of Psychology, Allegheny College, 520 North Main Street, Meadville, PA 16335-3902, USA. Sarah.Conklin@allegheny.edu
Expert Opin Investig Drugs. 2007 Oct;16(10):1627-38., Omega-3 fatty acid eicosapentaenoic acid. A new treatment for psychiatric and neurodegenerative diseases: a review of clinical investigations., Song C, Zhao S., University of Prince Edward Island, Department of Biomedical Sciences, AVC, 550 University Avenue, Charlottetown, PE, Canada. cai.song@nrc.gc.ca
Aust N Z J Psychiatry. 2008 Mar;42(3):192-8., Comparison of therapeutic effects of omega-3 fatty acid eicosapentaenoic acid and fluoxetine, separately and in combination, in major depressive disorder., Jazayeri S, Tehrani-Doost M, Keshavarz SA, Hosseini M, Djazayery A, Amini H, Jalali M, Peet M., Roozbeh Psychiatry Hospital, Department of Psychiatry, School of Medicine, Tehran University of Medical Sciences, Tehran, Iran.
Randomized dose-ranging pilot trial of omega-3 fatty acids for postpartum depression, Freeman MP, Hibbeln JR, Wisner KL, Brumbach BH, Watchman M, Gelenberg AJ, Department of Psychiatry, University of Arizona College of Medicine, Tucson, AZ 85724-5002, USA. marlenef@email.arizona.edu
Int Rev Psychiatry. 2006 Apr;18(2):155-72., Omega-3 fatty acids in ADHD and related neurodevelopmental disorders., Richardson AJ., Department of Physiology, Human Anatomy and Genetics, University of Oxford, UK. alex.richardson@physiol.ox.ac.uk
Am J Psychiatry. 2006 Jun;163(6):969-78., Omega-3 fatty acids and mood disorders., Parker G, Gibson NA, Brotchie H, Heruc G, Rees AM, Hadzi-Pavlovic D., School of Psychiatry, University of New South Wales, and Black Dog Institute, Prince of Wales Hospital, Sydney, NSW 2031, Australia. g.parker@unsw.edu.au
Prev Med. 2006 Jan;42(1):4-13., Omega-3 polyunsaturated fatty acids and depression: a review of the evidence and a methodological critique., Sontrop J, Campbell MK., Department of Epidemiology and Biostatistics, Kresge Bldg., K201, The University of Western Ontario, London, Ontario, Canada N6A 5C1. jsontrop@uwo.ca
Am J Psychiatry. 2006 Jun;163(6):1098-100., Omega-3 treatment of childhood depression: a controlled, double-blind pilot study., Nemets H, Nemets B, Apter A, Bracha Z, Belmaker RH., Faculty of Health Sciences, Ben Gurion University of the Negev, Israel.
Br J Psychiatry. 2007 Feb;190:118-22., Omega-3 fatty acid supplementation in patients with recurrent self-harm. Single-centre double-blind randomised controlled trial., Hallahan B, Hibbeln JR, Davis JM, Garland MR., Department of Psychiatry, Beaumont Hospital and The Royal College of Surgeons in Ireland, Ireland.
Durham Research – "Using Fatty Acids for Learning Conditions", © The Durham Local Education Authority. All rights reserved. Jan. 2004
OmegaBrite is a Member of