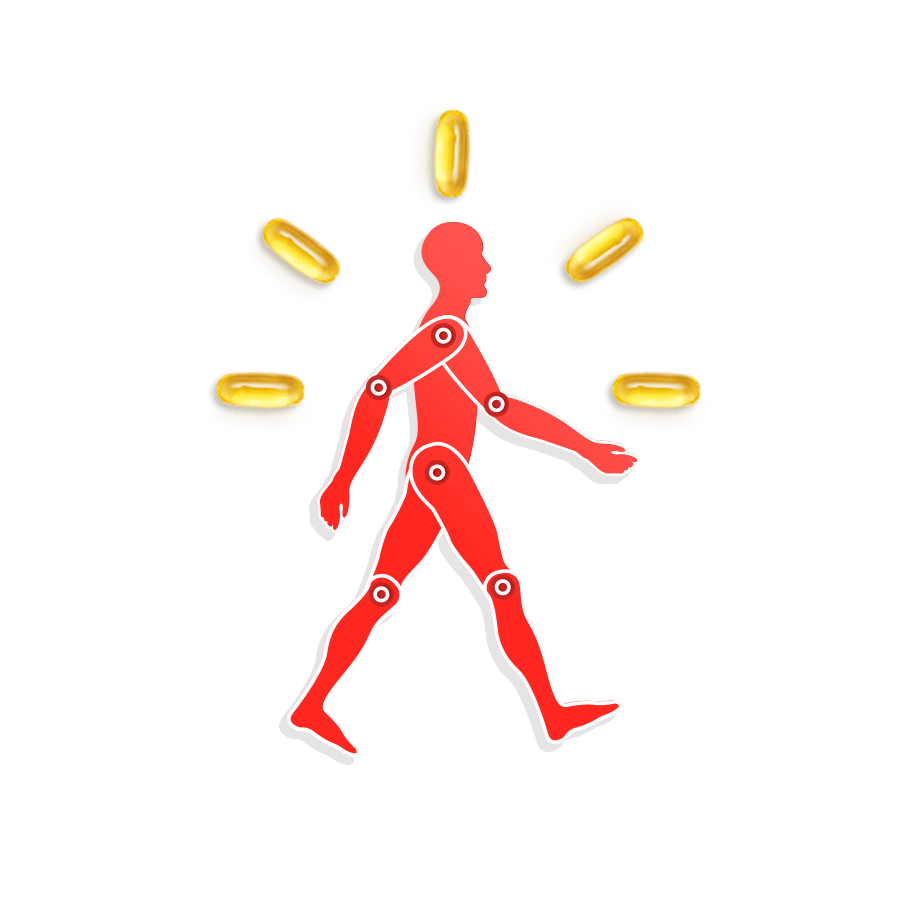 Benefits:
How Does Fish Oil Help Joints?
OmegaBrite© can positively impact your Joint Mobility in cases of Arthritis among others.
Joint Comfort and Mobility
Studies have shown that omega-3s benefit joint health. OmegaBrite has high omega-3 EPA which provides the body with powerful balance increasing mobility, joint health, and joint comfort. People feel the OmegaBrite difference, moving more freely, with comfort and ease. In several studies, omega-3s have shown to help promote joint mobility and east joint pain.
In our testimonials read about the comfort and freedom people have found with OmegaBrite.
Our Products
Receive a 10% discount with AutoRefill

I have lupus, and the joint pain used to be unbearable. But taking OmegaBrite makes it possible for me to get out of bed and do so many things I could never do before. Thanks!
Goldberg RJ, Katz J. A meta-analysis of the analgesic effects of omega-3 polyunsaturated fatty acid supplementation for inflammatory joint pain. Pain. 2007 Feb 28; [Epub ahead of print].
Treatment in Patients with Rheumatoid Arthritis," Nonsteroidal Anti-inflammatory Drugs Omega-3 Fatty Acids: 1992 The Journal of Rheumatology Kjeldsen-Kragh, Jens Lund, Jan Riise, Tove Finnanger, Bjorn Haaland, Kjell Finstad, Rolf Mikkelsen, Knut Forre, Oystein, "Dietary Omega-3 Fatty Acid Supplementation and Naproxen" Rheumatoid Arthritis: Study Evaluates Omega-3 and Nonsteroidal Anti Inflammatory Drugs (NSAID)
Serhan CN, Yacoubian S, Yang R., Annu Rev Pathol. 2008 Feb 28;3:279-312, Anti-Inflammatory and Proresolving Lipid Mediators.
Nat Clin Pract Rheumatol. 2007 Oct;3(10):570-9., New endogenous anti-inflammatory and proresolving lipid mediators: implications for rheumatic diseases., Yacoubian S, Serhan CN., Center for Experimental Therapeutics and Reperfusion Injury, Department of Anesthesiology, Perioperative and Pain Medicine, Brigham and Women's Hospital, Harvard Medical School, Boston, MA 02115, USA.
Scand J Rheumatol. 2006 Sep-Oct;35(5):359-62., Supplementation of omega-3 fatty acids in patients with ankylosing spondylitis., Sundstrom B, Stalnacke K, Hagfors L, Johansson G., Department of Medical Rehabilitation, Gallivare Hospital, Sweden. bjorn.sundstrom@nll.se
Omega-3 Fatty Acids Disease Mechanism II: Inflammation Natural Inflammatory Inhibitors, E. Tan, 6/15/02; Revised and Updated by P. Chang, 5/6/03
Arthritis Res Ther. 2006;8(1):202., Fish oil: what the prescriber needs to know., Cleland LG, James MJ, Proudman SM., Rheumatology Unit, Royal Adelaide Hospital, North Terrace, Adelaide, Australia. lcleland@mail.rah.sa.gov.au
Ait-Said, F., I. Elalamy, et al. (2003). "Inhibition by eicosapentaenoic acid of IL-1beta-induced PGHS-2 expression in human microvascular endothelial cells: involvement of lipoxygenase-derived metabolites and p38 MAPK pathway." Biochim Biophys Acta 1631(1): 77-84.
Cleland, L. G., M. J. James, et al. (2003). "The role of fish oils in the treatment of rheumatoid arthritis." Drugs 63(9): 845-53.
Effects of Fish oil Supplementation on Non-Steroidal Anti-Inflammatory Drug Requirements in Patients with Mild Rheumatoid Arthritis-A Double-Blind Placebo Controlled Study C.S. Lau, K.D. Morley and J.J.F. Belch British Journal of Rheumatology. 1993. 32:982-989.
Suzuki, T., K. Fukuo, et al. (2003). "Eicosapentaenoic acid protects endothelial cells against anoikis through restoration of cFLIP." Hypertension 42(3): 342-8.
Arthritis Rheum. 1990 Jun;33(6):810-20., Dietary fish oil and olive oil supplementation in patients with rheumatoid arthritis. Clinical and immunologic effects., Kremer JM, Lawrence DA, Jubiz W, DiGiacomo R, Rynes R, Bartholomew LE, Sherman M., Department of Medicine, Albany Medical College, NY 12208.